Who doesn't know the invitation card? Everyone who is going to have a party will need an invitation card. Yes, the role of the invitation card is vital to respect the people you care about to attend your party. As you know, there are so many invitation card design ideas that you can find easily. You can choose whatever method you want from various sources.
However, whether we realize it or not, sometimes there are some mistakes when making invitations. If you invite essential people who are in your life, it is better than mistakes of any kind should be avoided. What are the errors that usually occur when making invitations? Here is the full explanation.
Typo
Don't forget to proofread the words in the invitation. This error may be trivial, but it dramatically reduces the perfection of your invitation card. Readers are bound to be annoyed by this error. A typo can happen anywhere. Before printing the invitation card, try to pay close attention to the writing on the implementation of the activity. Don't let the guests receive the wrong information because there is a typo on the invitation. For that, you have to reread it carefully so that there are no typos on your invitation card.
Invitation Card without Theme
Try to imagine if the invitation did not have a theme. Surely the recipient will not be excited to read it. It's essential to determine the theme on your invitation card. If you don't know, there are thousands of design themes for invitation cards for various parties. If you don't like a full-color design, you can use a minimalist design. For those interested in past designs, you can use bohemian, vintage, or rustic styles. However, you can adjust this according to the party you will be holding –whether to commemorate a child's birthday, a wedding party, or a promotional event.–
It Does not Include a Map of the Location.
This is what is often overlooked. Even though putting the location map on the last page will make it easier for guests to find your residence. Because maybe not everyone knows and has been to your house, right. At least adding a location map will show where your party is held. So, you must add the location map to the various invitation cards that you create.
Wrong Name of the Recipient
A common mistake that often occurs is incorrectly writing the recipient's name. We recommend that in all forms of formal invitation cards, writing the name of the invitation uses the full name. Even if you invite essential people, don't forget to add their title after the name. This is a form of respect for them. Writing the wrong name is a fatal mistake. So it is a good idea to find out the full terms of the people you will invite.
Ignore Budget
Apart from adjusting the 4 points listed above, you also have to pay attention to this one. Adjust the invitation design with the budget you have, and it must be planned from the beginning. In order not to experience significant expenses. Adjust to the number of people you invite. Even if you intend to print invitations beyond the number of people you ask, it would be better not to exceed the budget you have provided for printing invitation cards.
Of course, after this, you will create the correct invitation card. Now, you need to know about the various types of invitation cards used at multiple parties. Here are five recommendation invitation cards that you can reference for your party. Anything?! Here is the explanation of many invitation card design ideas.
Read Related Article: Unique Party Invitation Card
Christmas invitation card sample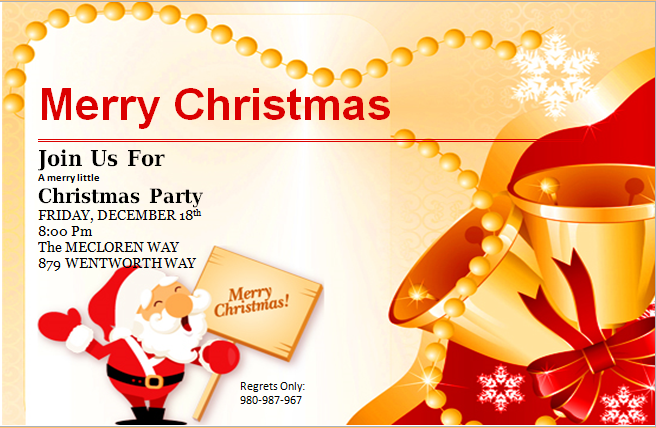 Christmas day has become an annual tradition for Christians. December 25th is usually a big family gathering moment. It would be nice if your home were a place where they gathered. Throw a party by eating delicious food, exchanging gifts with others. Your home will be full of warmth enveloped in the love of those you love. For that, it seems very important to invite them to join in to celebrate tonight's event. You can use an invitation card with a red and Santa Claus design to decorate your invitation card. If your family is out of town, you can send the invitation card online, you know. Invite them to be happy together tonight.
Thanksgiving invitation card with photo

God's blessings indeed envelop us every day. There are bound to be some occasions when you have worked hard to achieve. How happy you are to get a scholarship so that you can continue your studies with ease. How glad you are to be able to build a business with massive profits. To show gratitude to God, several people often held parties as a form of appreciation. Whether it's just a big family or presenting your best friend, you will need a thanksgiving card. To come up with a different design, you can add your best photo to the side of this invitation card.
Customized invitation card for new home

Owning your own home is everyone's dream. Therefore, few of them are new to buying a new house and having a party with their beloved family and friends. Well, this can be a moment for those closest to you to find out where you live now. Don't forget to give an invitation card to whoever you hope to be at your new home celebration party. For a great start, you can adapt the invitation card design to the design of your home. This will leave a lasting and exciting impression. Honor them by giving them this invitation card.
Baby shower invitation card
A baby shower is a party for babies and mothers who carry them as a form of gratitude for being blessed with children. A baby shower is native to western culture, which has recently been popular among young mothers in Indonesia. Unlike the 4-month or 7-month event, a baby shower is preferable at any time during pregnancy. Indeed this baby shower party invites a lot of people, including large families, to colleagues. In addition to preparing food to entertain guests, you also have to prepare a baby shower invitation card to invite the people closest to you to come on your date this time. The recommended design for the baby shower invitation card is identical to bright colors, like light blue, pink, and other pastel colors. You can also add one of your best photos to the baby shower invitation card's center to give it a distinct impression.
Church invite card

The church is the most sacred place for Christians, like any other place of worship. In the church, there are also religious activities that are participated in by the congregation. Even on big days, Christians gather to pray together at church. So, for religious occasions, the invitation card design used is formal. This is a complete explanation of the types of invitation cards. There are various invitation card design ideas that you can find from multiple sources. For that, make the invitation card design as attractive as possible and make anyone who reads it feel happy