How vital is invitation card printing design to you? Given the development of the times, you can send invitations in digital form because it is more practical and cheaper, of course.
Both printed and digital invitations have their respective advantages and disadvantages. For invitation card printing, in particular, this kind of invitation is more personal and is considered more appreciative of the guests you invite.
If you want to have a party, it is mandatory to make an invitation. If you have chosen what type of invitation to use, then decide on the design. Those who don't have the budget to hire a graphic designer don't need to worry because you can make your invitations.
To make your invitation, you can follow a few simple steps below.
Use Template
It is easier for you to do anything in this increasingly modern era, including making your invitations. Even though you are not good at design, there is an invitation maker that you can rely on.
You will find many templates in the invitation maker application or website that you can change as you wish. Choose a design template that matches your party concept and personality. When you've finished customizing the design, export your work and save it or print it out to share with loved ones.
Use the Bright Color as the Template for Invitation Card Printing Design
Birthdays are moments of joy. For that, invitations can be made using bright colors to have a cheerful feel. For a bright color scheme, use contrasting colors. Look for colors that are opposite, say blue vs. pink.
Make Use of Various Font Style
To give your invitation card printing design a little more variety, try mixing and matching different font styles. When in doubt, choose a decorative font for the main header, a second decorative font for the sub-header, and regular font for the body text. The right combination of font styles can add a professional touch to your invitation cards.
Feature the Eye-Catching Header
A simple way to get an eye-catching invitation card printing design is to use a large, eye-catching header. To make it, you can use a photo combined with a cool pattern so that the title will stand out.
Use the Color Filter
If you are worried that the writing is unreadable or unsightly, use a color filter to solve it. Usually, background images that are too busy will make fonts challenging to read, so using color filters can help text stand out without completely obscuring the background image.
Make a Focus on One Picture
The focal point is the part of the design that will attract people. Generally, the focal point is the brightest, most focused, and most contrasting design.
You can create this central focal point in your invitation card design by selecting an image to be the point. For example, on birthday invitations, you can use a cupcake image synonymous with this celebration.
Give the Simple Color as a Border
For a simple design, you can use a solid border color. Choose a color that reflects the mood and theme of your party. If you add an image to the invitation, then choose a border color that matches the picture.
As inspiration, you can check out some of the invitation designs below.
Read Related Article: Best Christmas Invitation Card for Unforgettable Party
Bridal Shower Invitation Card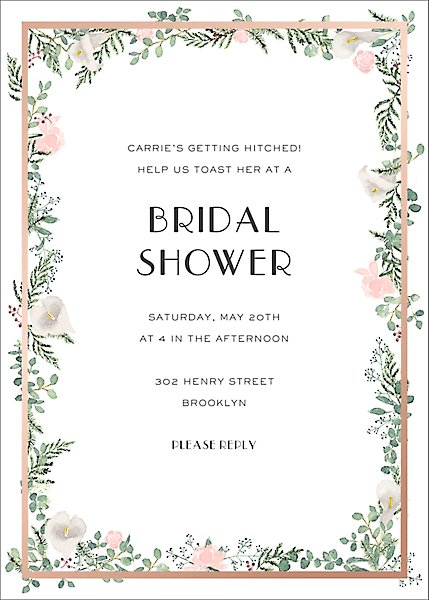 A bridal shower is a celebration to celebrate the release of a woman's single life before her wedding day. This event is a party giving gifts to the bride and groom.
No wonder the closest person will make a party for the bride and groom. This party is usually attended by friends of the bride and groom/bridesmaids, where if you want them to join, you have to invite them. So, what kind of invitation is suitable for this bridal shower event?
Bridal shower invitations usually have a feminine feel, and the colors used are soft. As an accent, you can apply a floral theme to the invitation. Choose a beautiful, decorative font to support the feminine impression of the bridal shower invitation.
Invitation Card Sample

The first thing you need to prepare to make a party is to make the perfect invitation. Invitations are used to ensure that all of your friends and family can attend to celebrate the party together.
There are many invitation designs that you can use. Try to determine a design that matches the theme of the event and your personality. If you are confused about what to write in the invitation, we will let you know.
First, put your name if you are the party organizer. Second, tell your guests about the type of parties, such as a birthday or engagement party. Next, don't forget to enter the date and time the party will be held.
At the bottom itself, include RSVP details if needed. Don't forget to provide information about the dress code if you use it.
Free Birthday Invitation Cards for Whatsapp
To make a birthday invitation card for WhatsApp, you can use a free application that provides a design template. To do this, install the application on your smartphone or desktop.
Then choose a template that best matches the theme of the birthday event. Use the move and drop design tool to add your design. You can also add images, make styles and colors into the available templates so that your invitations match the event you are making.
If the image provided does not match, use your image, and you can also change the paper style if you feel it is necessary. For the font, you can change the words and modify the color according to your preference.
If all the details are perfect, export your work, and the invitation is ready to share via WhatsApp.
Free e-Invitation Card for Prom Night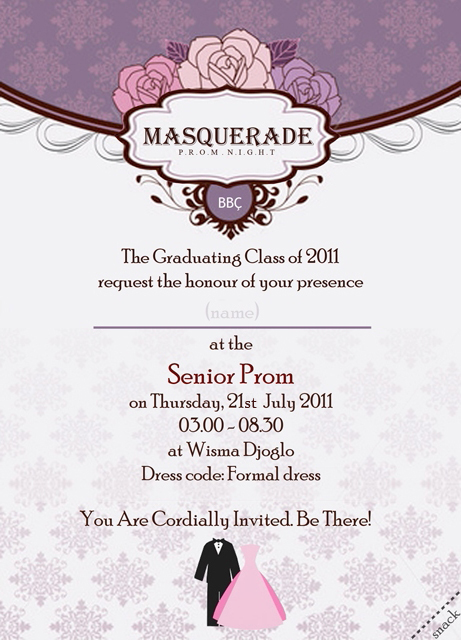 Just like birthdays, prom night is also a less formal party. To make the invitation, use the free invitation maker and make it as attractive as possible.
Since prom nights are held at night, you can make the invitations a dark base color, such as purple, navy, or black. Browse the templates that match your party's theme in the invitation maker application.
You can experiment with photos, stickers, illustrations, and other elements contained in the application. Just use the drag-and-drop tools, photo filters, and animation effects to make the best prom night invitation possible.
For a more personal touch, upload your photos. Then choose your background, mix and match font combinations and experiment with different color schemes.
Restaurant Opening Invitation Card Sample

To make a restaurant opening invitation card, there are a few things that you need to write in it. This is because the invitation could affect the smooth running of the business in the future.
You can write several messages in the invitation, such as a quote at the opening to touch the person who received it. After that, you can write a sentence inviting the recipient to come to the event, followed by writing down the event's purpose, which is the restaurant's opening.
Don't forget to include the date and time the event was held, complete with the venue address. At the bottom, have a contact person so guests can confirm their presence.
For the design, you can make it simple. For example, using a background from a photo of your restaurant, then overwriting it with a decorative font with a specific color selection. The information is easy to read and doesn't lose the aesthetic value of this invitation printing card design idea.
.