The party invitation card has to be lively and catchy because, of course, you want everyone to be attracted to your party and want to come there. However, have you made party invitations before? Making party invitations is not that difficult, but some people feel confused about getting started.
If you want to make an invitation and don't know how to make an attractive party invitation card, find out more about how you can make a pretty and easy-to-understand invitation.
Draft In Advance
You have to make a concept first to be able to make the invitation that suits you. What occasion are you having? What kind of theme do you want? You have to arrange them first. For example, if you're going to make an invitation for your child's birthday, you can use a funny concept. If you want to make an invitation for yourself, you can use a theme that you like.
Find Ideas on the Internet
You can find many ideas on the Internet, such as ideas on Pinterest. With these ideas, you will get inspiration to make invitations that you like. You will know how you want to make the invitation.
Pay Attention to Dates and Places
Apart from appearance, the important thing for you to know about invitations to events is a clear place and date. Make sure you provide clear information so people will know when they can come to your show. You don't always pay attention to ornament or design. Neither will be meaningful if you don't place the venue and date of the event clearly to confuse guests. Always use clear writing of the date, guest name, and venue.
You already know some important things about making a birthday invitation card. Now, you can start with some of the best inspiration from event cards. Let's see here.
Funeral Invitation Card
The funeral is not a party, but it is an important event. If you want to make a card for a funeral, you should know that you shouldn't use too many festive decorations. Otherwise, you look disrespectful to the person who died. Use a predominance of dark colors like black, for example. Don't forget to give interesting words to commemorate his absence.
Boy Birthday Invitation Card
If you want to make an invitation card for a boy, you can first ask him what kind of card he wants. Maybe he wants a minimalist card. Maybe, he wants a card with a favorite cartoon. After that, you can use the design he likes along with the photo. This will make him happy.
Baby Shower Invitation Card Sample
The baby shower is a favorite moment for many people. You can use a minimalist concept or an acute concept. Baby showers are valuable moments because they aim to welcome the birth of your child. You can invite the people closest to you so that the event looks more intimate.
Read Related Article: Cheer Up The Birthday with Birthday Invitation Card
Indian Wedding Invitation Card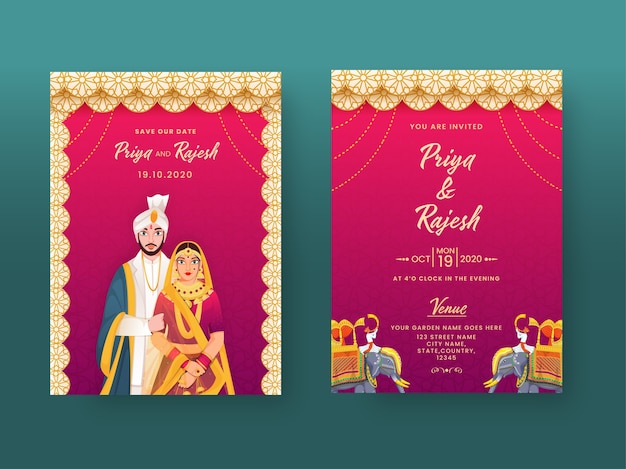 Do you know? Indian wedding invitation cards are an exciting event because Indians like to have very festive parties. You can use ethnic and attractive ornaments to make Indian-style wedding invitation cards even if you are not Indian. Use red and gold colors, and it will represent classic Indian luxury.
Thanksgiving Invitation Card
Thanksgiving is a moment when people return home, gather with their family and closest people. It would be best if you celebrated this moment with an inspiring greeting card. If you want to invite relatives to this party, consider using some humble color. So, you can give that warmness to those who you invite to the Thanksgiving Party.
You already know the list of the party invitation card that you love to have! Let's see how you can make a change through a great party invitation card and make everyone happy to receive it.