Having a partner and getting married is an absolute joy for everyone. Of course, these aren't just the people you know at the party, but your parents' relatives and friends too. So, to invite people to your wedding, the wedding invitation card sample help you prepare many things, you know.
As we know, in the current pandemic season, there are several new habits that we both adopt—no exception in holding weddings. It would be best if you did several things so that your wedding party can continue to be done solemnly. About anything, yes, that we have to prepare? Here I provide tips on marriage in the pandemic season. Immediately, let's review it thoroughly.
Implement health protocols
Weddings are events that are synonymous with crowds. You should apply health protocols for both the bride and the groom and all guests. To avoid forgetting, you can add "important notes" to your wedding invitation card, such as "don't forget to wear a mask and bring a hand sanitizer." However, you as the host must also provide masks, hand sanitizers, apply physical distancing, provide temperature checks, and carry out weddings in an open space. Of course, this is for our common good.
Permission to the law officer
As the front guard, the police often conduct patrols to control community activities to avoid crowds. As is reported in the news, the police often dismiss weddings because there is no permit to carry out activities. Don't let this happen at your wedding event, OK? You must make a permit in advance and get approval from the local police.
Invite in turns
This is what distinguishes an ordinary marriage from a marriage in a pandemic season. You can take turns inviting the people you love or split several sessions. It can be a morning, afternoon, evening, or evening session. Of course, this can be one way to reduce the crowd if there are many people you invite. It tends to take longer, but it's better done for everyone's health.
Parcel
If you are holding a reception, don't forget to prepare gifts for guests. Suitable food parcels or souvenirs. Because giving souvenirs and food parcels is a form of respect and gratitude to the people you invite for being present at your wedding. The number of gifts you order should match the number of attendees you invite.
The marriage contract without a reception
To avoid raids from the police, some people choose to enter into a marriage contract their closest family attends. Weddings during a pandemic will help you save on reception expenses. Of course, you can carry out the marriage contract at the civil office/administration office for free. You don't need to cater to many people. There's no need to rent a building or prepare massive decorations.
How have you planned a wedding amid a pandemic? Hopefully, the full review earlier can help you to organize your wedding party perfectly.
Right now, we are going to give you a wedding invitation card design recommendation these days. Maybe you can refer to it if you are still confused about what theme and color to use. Anything? This is it.
Engagement invitation card
Before making the marriage contract, a fiance is one of the memorable memories. A party that is identical to the exchange of rings is mandatory for you to do at an early stage to get to the wedding stage. Somewhat different from a wedding party. The engagement party is not as big as a wedding because the goal is to bind each other between partners. As for the invitation, it was sufficient to be attended by families from both parties. However, it is essential to provide engagement invitation cards for them. Even though you can do invitations verbally, it would be nice to give an invitation card on the most meaningful day of your life's journey.
Online invitation card sample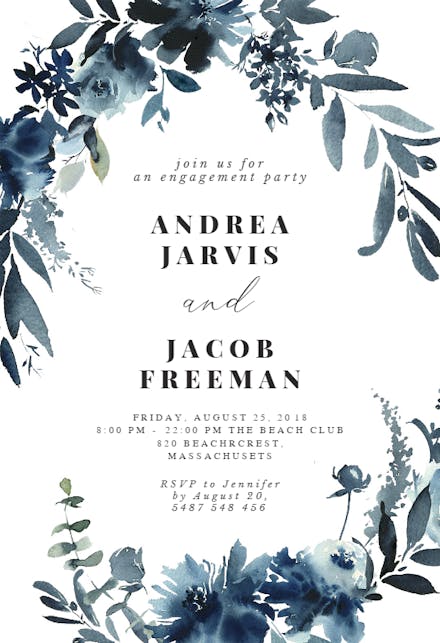 Nowadays, you can find a variety of invitation card designs. There are also a lot of media used to make invitations. Besides printing, you can also provide invitations in the form of soft files, you know. This idea will not reduce the beauty of the invitation card that you give. In fact, by using an online invitation card, you can invite your relatives or colleagues who are out of town.
Choose a good and attractive online invitation card design so that those you invite can be interested in attending your wedding. On the other hand, if you know the advantages of using this online invitation card, you don't need to provide the budget for printing invitation cards. So, indeed your money can be used for other purposes, right?
Anniversary invitation card

Anniversary celebrations are also the happiest part of life in someone's life. How could it not be? This beautiful household has been successfully maintained along with its harmony so far. Even though the celebration can be held every year, unquestionably, the moment or party on the wedding date is a day to look forward to. So, so that your anniversary is festive, invite your family and friends to participate in celebrating this happy day. Invite them with an anniversary invitation card. Make a luxurious and charming design in every corner.
White marriage invitation card
White is a color that is often used as a solution for creating luxurious and elegant invitations. However, it is often used to give a touch of minimalist invitation designs. Whatever it is, this white marriage invitation card manages to amaze the recipient with its beauty and most pleasing design. Of course, you can make a white marriage invitation card one option to determine your party invitation design. This thing will give you the confidence to invite the people you love to be there amidst the joys of you and your family.
Read Related Article: Check Out Our Free Invitation Card Ideas
Black wedding invitation card sample
Well, for those of you who like dark colors, this one design is perfect for you. You can use black as the background for your invitation card. This black wedding invitation card is still rarely found, you know. But if you know, black can also give you a perfect touch of luxury. You can provide the type and aesthetic font with white and some embellishments. When others try to be different from the usual invitations, you can make this black color an option for your wedding.
Have you thought about what kind of template to decorate your invitation card? I am sure that the design choice you choose is the best design from the thousands of template choices you see. Hopefully, by giving a wedding invitation card sample to the people you care about, your wedding will be more meaningful.