Meeting a soul mate is a time that everyone is looking forward to. Various traditions also surround this wedding procession. You are bringing everyone you know to join together to carry out your wedding party.  For that, it is essential to make a wedding invitation card ideas to invite the people you want to attend your wedding.
Amid the pandemic situation, what are the ways to spread invitations?  In this digital era, what is impossible?  You can efficiently distribute invitations even if the one you invite is out of town.  You can use your social media to spread invitations in the pandemic era, you know.  For example, WhatsApp.  Very easy, right?  Similar to weddings in general, organizing a wedding in the pandemic season forces you to prepare several things, you know.  Anything?  Here's the explanation:
Invitation Card
If you're going to have a party, this is the key to inviting someone.  You must give the invitation card to whoever you want to be at your party.  This invitation card is intended to pay respect to those you invite.  It shows that you wish for his/her presence on your wedding day. Asking by word of mouth seems impolite.  Even to your immediate family, you should give them an invitation card.  Given the card in person or online, the wedding invitation card ideas must reach your loved ones.
Decoration
For this one, you can use the services of a wedding organizer to make your wedding successful.  It will also present you with various types and themes of decoration.  By using the services of this wedding organizer, you can find it easy to decorate and wear the bridal clothing that you are going to wear.  There are many choices of clothing with traditional themes from an area to modern.  Choose the one you like the most.  You can also choose luxurious and festive decorations to make your wedding party sparkle.
Catering
Since you've invited someone, the next thing you have to do as the host is to serve guests with food.  Yes, you have to prepare catering.  Here, the invitation card's role is needed to determine how much catering you should order.  You must adjust the number of people you invite to no more or less catering for the invitees.  You can use the buffet method to let the guests choose the food they like.
Souvenir
Besides the wedding procession, this one is also the center of attention of guests, you know.  Weddings are synonymous with souvenirs.  Souvenirs are gifts given as a form of gratitude to the invitation for being pleased to be present at your wedding ceremony on the sidelines of your busy schedule.  Souvenirs are also a memento that you give to those who are already present at your party.  To order it, you adjust it to the number of people you invite.
Guest Star
This thing is no less important than others.  Presenting a singer will complement your wedding party.  The presence of this singer will liven up the atmosphere during moments to welcome invitations, take photos together, or when eating.  You can determine the guest star with the songs that you like.  If you want pieces from the jazz genre, ask the singer to sing him his ultimate song to the bone. Indeed this moment is worth remembering for you and all the people who have attended your wedding party.
There are several ways you can do so that your wedding event does not create a new cluster.  You can create several visiting groups according to the hour.  Health protocols must also be implemented, starting from requiring guests to use masks to providing hand sanitizers.
Do you already have an idea of ​​what your wedding will look like?  If so, you can start by determining the invitation card design, you know.  What you need to know is that there are many types of wedding invitation cards.  Are you curious ?!  This is it.
Wedding invitation card online for family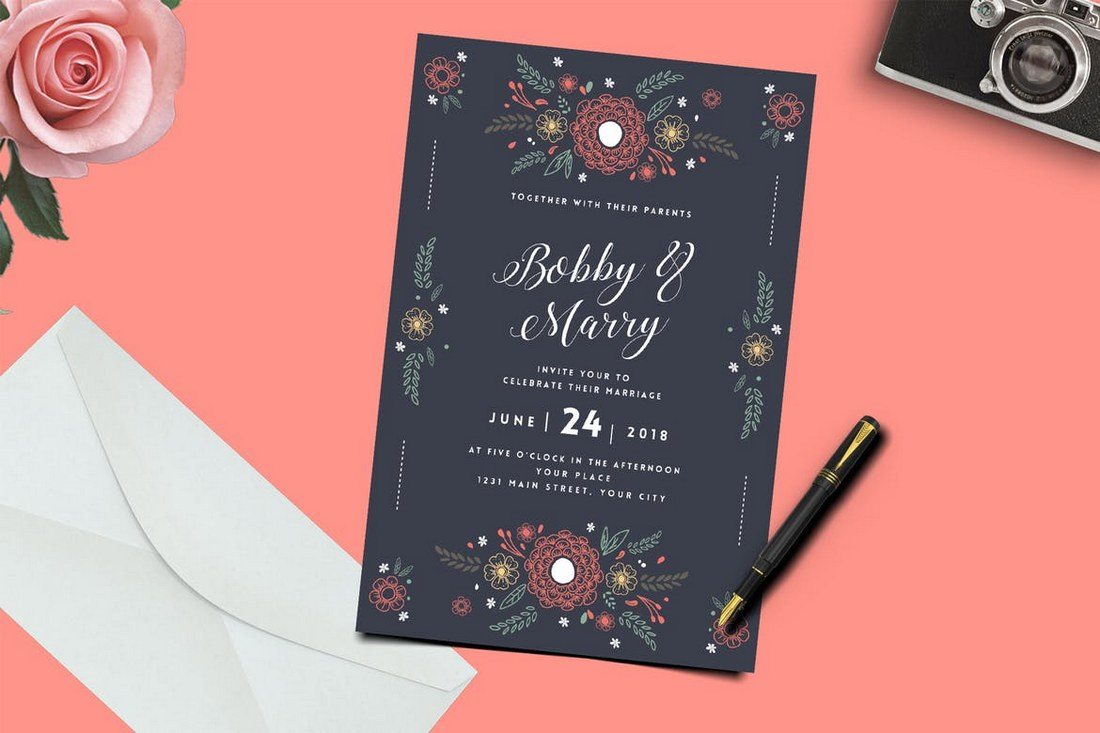 Inviting a large family to a wedding is a must.  They are usually the most enthusiastic about participating in enlivening your wedding event, among others.  Present them on this historic day with great joy.  Sow an arc of a happy smile amid the most precious moments of your life.
Please give them a wedding invitation card with a luxurious and elegant design.  Install a template with the best theme according to your wishes.  Add accessories to enhance the elegance of the invitations that you make.
Formal details for wedding invitation card online
What is the difference between a formal wedding invitation and a non-formal one?  The standard wedding invitation details are much more complete than the informal.  The elements in it consist of the opening, the implementation of the event (day/date of the wedding, time, and location of the wedding).  Formal invitations use standard language.  If you invite state officials or essential people in your company, you must use this type of invitation.  For the template, you can customize what you want.  Make it as attractive as possible, so that the people you invite are interested in attending your wedding.
Bohemian wedding invitation card
Bohemian wedding invitation cards are more about old designs.  Vintage is a template design that you can use for this type of wedding invitation card.  The paper used also uses a duller color than usual.  Adding pre-wedding photos between the invitation cards will give a different impression and look beautiful from the ordinary invitation cards.  You can add accessories such as lace to give your invitation a classic appearance.  If you are bored with the same designs, you can make this bohemian wedding invitation card.
White wedding invitation card design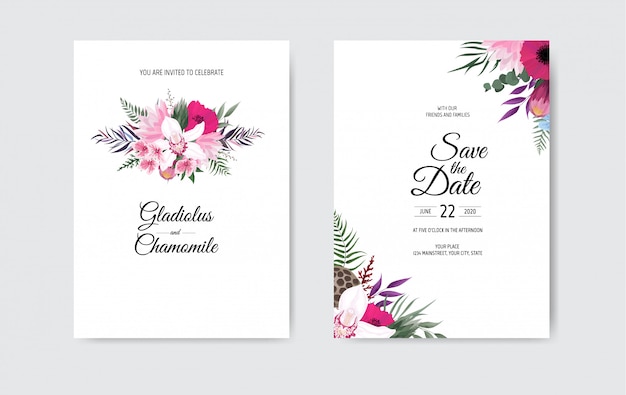 This white wedding invitation card is perfect for those of you who like a minimalist or elegant design.  The neutral color works well with a variety of other colors.  A touch of softness makes the visual appearance of the wedding invitation card more classy and elegant.  Make the best offerings for the people you care about so that they will flock to enliven your wedding event.
Read Related Article: Greatest Invitation Card Ideas for Occasion
Dark wedding invitation and RSVP card
If you want to give a different and aesthetic touch to your wedding invitation cards, it's recommended that you use this dark wedding invitation card.  How interesting, right?  One of them, you can use a monochrome theme to create your attractive wedding invitation card.
What is an RSVP card?  If there is an RSVP card on the invitation card, it means that you, as the host, expect a reply message from the person you invite to confirm whether you can attend or not at your wedding.  This RSVP card can be a surefire solution for how many people will attend your wedding.
This is a wedding invitation card ideas that you can use as a design reference to perfect your wedding event.  Never miss any preparations, so that your wedding will run happily.